Vulcan Community Health Centre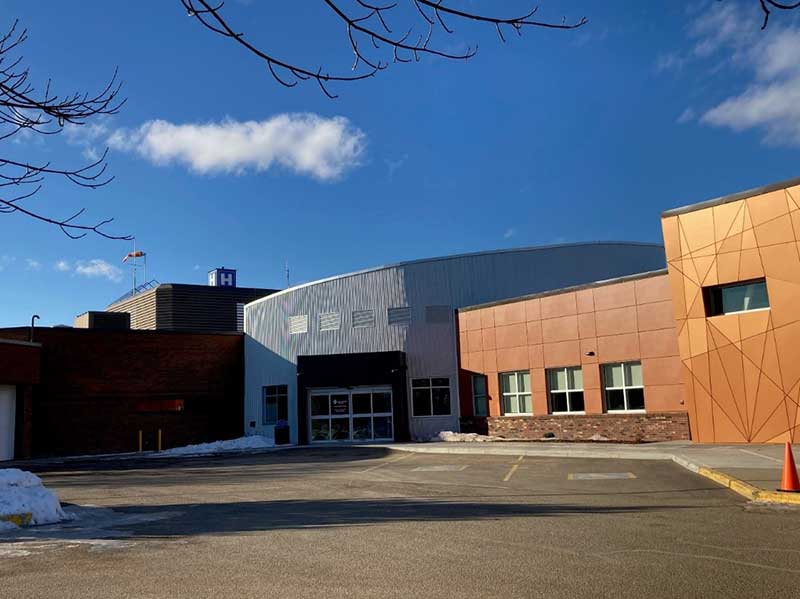 Our New Entrance
JOB OPPORTUNITY: The Vulcan Medical Clinic is currently recruiting a full-time or part-time physician. Please see the Medical Clinic page for application requirements. Applications close October 31, 2022.
A Message from the Vulcan Community Health Centre - May 1, 2020
... If you are in immediate danger…call 9-1-1 ...
... Go to the nearest emergency room ...

... or urgent care centre ...
Need immediate help?
Vulcan RCMP – Complaint: 403-485-2266. Admin: 403-485-2267
Vulcan Regional Victim Services Society – Support and information for victims of crime and tragedy.
Family Violence Info Line, 1-403-310-1818
Need someone to talk to? 24/7
Addiction Helpline
Mental Health Helpline
Health Link

Call 811 to speak with a Registered Nurse about your health concerns.

Homelessness emergency, Vulcan Regional Food Bank Society
Vulcan FCSS and Food Bank 403-485-2192 (open 8-4:30 pm)
Crisis Hotline, 403-485-5846 or 24 hour 1-877-303-2642
---
Vulcan Community Health Centre Help
Are you losing control…angry, stressed, frightened

?
It is a fact that in pandemics there is an increase in domestic violence and child abuse.
We care and there is help available at the Vulcan Community Health Centre.

Call and get help for yourself, your family or your loved ones.
Contact:
Heather, Registered Social Worker
Mental Health Clinician Vulcan Community Health Centre
403-485-3356
---
Regional Covid-19 Updates
Regional Covid-19 updates are being provided by the Vulcan County Regional Emergency Management Partnership.
You can access these updates by going to either the Vulcan County or the Town of Vulcan websites.
Click here to access the Vulcan County website.
Click here to access the Town of Vulcan website.
---
Thank you from the Vulcan County Health Care Worker Attraction and Retention Committee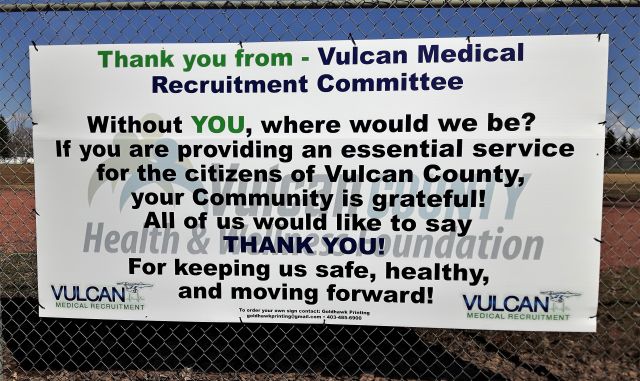 ---
Alberta Health Services Covid-19 Update
Vulcan Medical Clinic Update
The Vulcan Medical Clinic is open during the COVID-19 pandemic

clinic hours are Monday to Friday (9:00 am to 4:00 pm)

Be advised that the doctors are still seeing patients in the clinic for scheduled appointments.
The "on-call" physician will continue to see walk-in patients following the clinic's normal protocols.
Doctor Appointments via Telephone
A telephone appointment will be booked for you if:
you are in isolation or quarantine
if would like a medical appointment with your family physician but would prefer not to come to the Vulcan Medical Clinic
To book a telephone appointment, please call the Vulcan Medical Clinic at 403-485-2216 and we would be happy to book a telephone appointment for you with your family physician.
Emergency
If you must go to Emergency be advised of the following:

Only

ONE

support person with you – if needed

DO NOT

bring children into the Emergency unless the child is the patient.
Public Health Appointment
If you have an appointment for your child's immunization or other procedure, please leave your other children at home.
Thank you for all the care and compassion you have expressed to our frontline workers.
It means a great deal to all of us!
Thank you all
from the Vulcan Community Health Centre Staff
and the Physicians and Staff at the Vulcan Medical Clinic