Vulcan Community Health Centre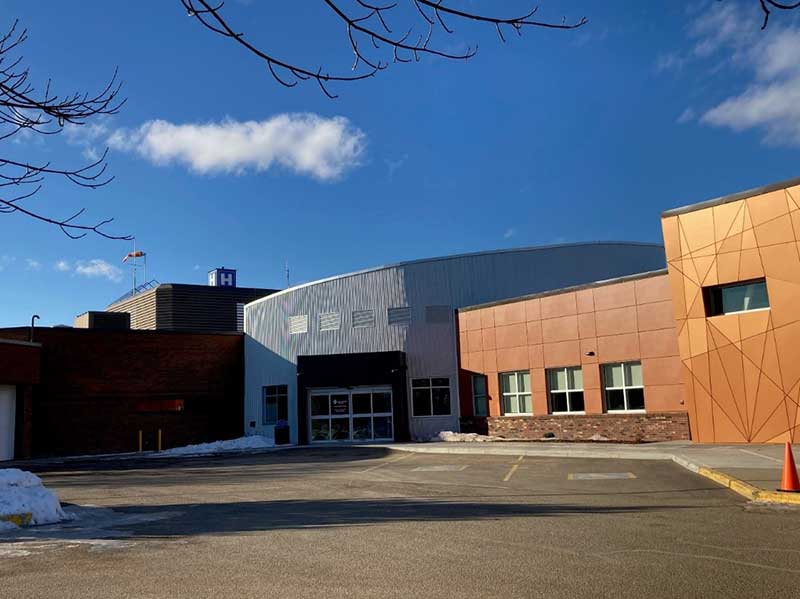 Our New Entrance
JOB OPPORTUNITY: The Vulcan Medical Clinic is currently recruiting a full-time or part-time physician. Please see the Medical Clinic page for application requirements. Applications open until position is filled.
Job Opportunity: The Vulcan Community Health Centre is currently in search of an RN for a .56 FTE position. Please send your resume to This email address is being protected from spambots. You need JavaScript enabled to view it. or drop it off at the hospital. More info on this posting can be found on the AHS job recruitment website. (May 2023)
Casual positions are also available for RN's, LPN's and HCA's as well as other departments in the hospital.
Congratulations to the Vulcan and County Attraction and Retention Committee, the 2022 winners of the RhPAP Community Rhapsody award. View the video below:
Facebook
YouTube
RhPAP Blog
https://rhpap.ca/news-events/rural-alberta-health-care-heroes-receive-well-deserved-recognition/
RhPAP NEWS ARTICLE
A Message from the Vulcan Community Health Centre - May 1, 2020
... If you are in immediate danger…call 9-1-1 ...
... Go to the nearest emergency room ...

... or urgent care centre ...
Need immediate help?
Vulcan RCMP – Complaint: 403-485-2266. Admin: 403-485-2267
Vulcan Regional Victim Services Society – Support and information for victims of crime and tragedy.
Family Violence Info Line, 1-403-310-1818
Need someone to talk to? 24/7
Addiction Helpline
Mental Health Helpline
Health Link

Call 811 to speak with a Registered Nurse about your health concerns.

Homelessness emergency, Vulcan Regional Food Bank Society
Vulcan FCSS and Food Bank 403-485-2192 (open 8-4:30 pm)
Crisis Hotline, 403-485-5846 or 24 hour 1-877-303-2642
---
Vulcan Community Health Centre Help
Are you losing control…angry, stressed, frightened

?
It is a fact that in pandemics there is an increase in domestic violence and child abuse.
We care and there is help available at the Vulcan Community Health Centre.

Call and get help for yourself, your family or your loved ones.
Contact:
Heather, Registered Social Worker
Mental Health Clinician Vulcan Community Health Centre
403-485-3356
---
Regional Covid-19 Updates
Regional Covid-19 updates are being provided by the Vulcan County Regional Emergency Management Partnership.
You can access these updates by going to either the Vulcan County or the Town of Vulcan websites.
Click here to access the Vulcan County website.
Click here to access the Town of Vulcan website.
---
Thank you from the Vulcan County Health Care Worker Attraction and Retention Committee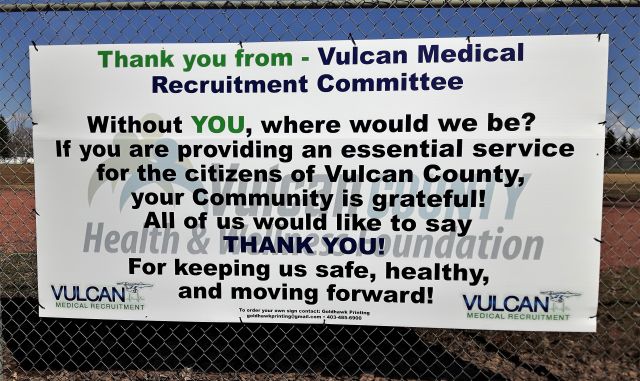 ---
Alberta Health Services Covid-19 Update
Everyone is still expected to wear a mask when entering all AHS Facilities.
Vulcan Medical Clinic Update
The Vulcan Medical Clinic is open daily.

clinic hours are Monday to Friday (9:00 am to 4:00 pm)

Be advised that the doctors are still seeing patients in the clinic for scheduled appointments.
The "on-call" physician will continue to see walk-in patients following the clinic's normal protocols.
Doctor Appointments via Telephone
A telephone appointment will be booked for you if:
you are in isolation or quarantine
if would like a medical appointment with your family physician but would prefer not to come to the Vulcan Medical Clinic
To book a telephone appointment, please call the Vulcan Medical Clinic at 403-485-2216 and we would be happy to book a telephone appointment for you with your family physician.
Emergency
Generally there can be multiple support persons in the ED, however spacing at the site may limit this, (especially if both support persons are from different households).
Children, who are not patients, are allowed in the ED as long as they can wear a mask.
Visiting in Acute Care:
Visiting is not currently restricted. For more information see the link below:
https://www.albertahealthservices.ca/topics/Page17001.aspx
Public Health Appointment
For Public Health Appointments call 403-485-2285.
For after hours booking of appointments, call 811.
Thank you for all the care and compassion you have expressed to our frontline workers.
It means a great deal to all of us!
Thank you all
from the Vulcan Community Health Centre Staff
and the Physicians and Staff at the Vulcan Medical Clinic