Nursing:
Registered Nurses
Licensed Practical Nurses
Health Care Assistants
Hospital Staffing
We have 2 RNs, LPNs, and 2 HCAs available on the day and evening shifts.
We have 1 RN and LPN on nights to cover the entire facility.
A second RN is on call for emergencies and the ambulance crew will respond to help in the ER if necessary.
Vulcan Medical Clinic RN
An RN works out of the Medical Clinic, which is located in the Vulcan Community Health Centre, Monday to Friday

The Primary Care RN works with complex care patients and those requiring Chronic disease management.

The RN works directly with these patients to provide counselling, education and treatment and is the Referral Clerk.

Diagnostic Imaging Services:
Outpatient work is done from 0800-1700 Monday- Sunday but we have DI staff on site from 0800-2315 for ER and Acute patients and on call during the night.

.
We have a portable x-ray machine and all patients can be X-rayed on the emergency stretchers if they can't be moved to the x-ray department.
Our Radiology Department provides 24 hour Holter ECG Monitors as well as 24 hour ambulatory blood pressure monitoring.
Laboratory Services: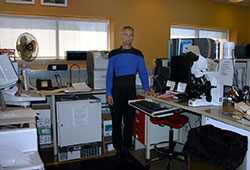 This service provides a comprehensive range of routine and specialized lab testing and clinical consultation.
The lab is fully equipped and our technicians are able to do many tests on site.
Lab services available include:
blood and body fluid sample collection
biochemistry and toxicology
urinalysis
transfusion medicine
hematology
coagulation studies
Lab hours
Open for Out patients: 0830-1700 Monday-Friday

We have lab staff on site for ER and Acute patients from 0700-2300 and on call from 2300-0700.

We have staff on site on weekends from 0800-2300 and then on call.

.
Physical Therapy Services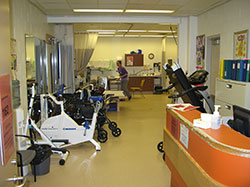 Our physiotherapist and a physio assistant work Monday-Friday 0830 to 1630.
Our physio department is equipped with parallel bars, treadmill, stationary bike, stepper, wall pulleys, reciprocal pulleys, arm egonometer, free weights, and treatment mat.
Wheelchair assessments can be done on uncomplicated clients and lower leg assessments are offered.
The PT is an AADL authorizer.
Occupational Therapy
We have OT services in the hospital 2 days/week and

there is also a community based OT available 2 days/week.

The OT offers cognitive assessments, swallowing assessments, home assessments and lower leg assessments.
The OT also fits clients with home adaptive equipment.
Recreation Therapy
We have a recreation therapist in a 0.5 FTE and a recreation assistant in a 0.63 FTE.
Their services and programs are focused on our long-term care population.
Respiratory Therapy
A respiratory therapist comes in weekly for PFTs.
Outpatients can book and appointment to see the respiratory therapist.
Referrals are available for inpatients as well.
Pharmacy:
The Vulcan Community Health Centre has a pharmacist onsite 3 days a week as well as a pharmacy assistant onsite 3 hours per day. A

mong their other duties, the pharmacist provides clinical counselling to inpatients

There is always a pharmacist on 24 hours call.
Pharmacists in the two drug stores in the Town of Vulcan fill prescriptions Monday to Saturday 0900 to 1800.
We have a site-specific hospital formulary which physicians can access from any of the RNs.
We also have access to the Calgary Health Region formulary.
Health Records:
Health Records is staffed Monday to Friday 0800 to 1630.
Mental Health
We have a mental health clinician available Monday to Friday from 0930 to 1745. At this time, the clinician is a registered not and not a social worker
This individual provides assessment and counselling for a wide variety of conditions and addictions.
As a registered social worker, this individual takes self referrals was well as referrals from other health care providers.
Counselling services include smoking cessation, grief support, alcohol and drug addictions, financial planning, dealing with depression, coping skills, and advanced care planning.
Psychiatrist
A psychiatrist is onsite on a monthly basis.
Appointments are booked through the medical clinic.